Links: Health & Well-Being
---
Living Elements Clinic
Wholistic clinic near Chichester, UK where your health is our priority. Visit us soon!
http://www.livingelements.co.uk
If you want a special place dedicated to YOUR health and well-being in rural surroundings - we can help!
---
IAVMT
The International Association
for Voice Movement Therapy
An organization of Voice Movement Therapy Practitioners. www.iavmt.org
---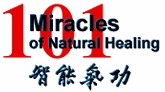 Chilel-Qigong is the only "medicine" used at the world's largest medicineless hospital in China. Patients there are referred to as "students," and remarkable cures are achieved by daily practice of Chilel-Qigong. Visit this U.S.A. site for more information, workshops and retreat schedule, and to order books and videos.
---
---
Acupuncture Center of Fernandina: Traditional Chinese Medicine and Complementary Therapies offered by Dr.James F. Jones, AP, who is trained in Acupuncture, Herbal Medicine, and many energy healing modalities.
---
Wellness.com: Learn how to live a longer, more fulfilling life through wellness. Improve your body, mind, spirit, and relationships.
---
THE FELDENKRAIS STUDIO: Elaine Alexander, GCFP The Feldenkrais Method® is an educational approach that facilitates an increased awareness of our functioning selves, or, how we do what we do to live and move in the world. It is useful for reducing pain, preventing injuries, increasing range of motion, improving flexibility, and expanding coordination and efficiency, with an additional benefit of increased mindfulness in general.
Email: ea_1136@yahoo.com
---

Gaia Retreat is a spa retreat located in the lush rolling hills of the Byron Bay Hinterland. At Gaia Retreat and Spa we will help you tailor your own personal retreat enabling you to fully relax, renew, refresh, and restore your mind, your body, and your soul.
---
Mental Health Conditions and Disorders:
Conditions and disorders related to mental health and addiction
Therapist | Articles | Conditions & Disorders
---
333Connect
333connect.com provides Free Classified Listings for Holistic Practitioners
and articles about all things metaphysical.
---

chrisplatel@consciousconnections.com